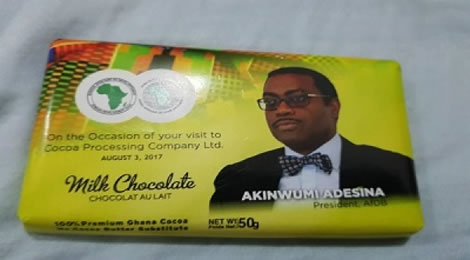 The Managing Director of Cocoa Processing Company (CPC) Nana Agyenim Boateng I, says his administration has revived an existing policy that enables the company to brand chocolates for individuals and corporate bodies.
This, he said, is one of the key strategies to save the ailing company from collapse as well as promote the consumption of chocolate among Ghanaians.
Reacting to concerns about why CPC provided branded chocolates for the Chief Executive of Ghana Cocoa Board (COCOBOD), Joseph Boahen Aidoo on his 60th birthday, he said the COCOBOD boss paid the full cost just like any other customer that requests for branded chocolates.
The branded chocolates cost COCOBOD Chief Executive GH¢2,913 which was duly paid for to demonstrate his commitment to the initiative, he added.
For him,it is a service anybody can walk to CPC and request for and therefore, it was a privilege for COCOBOD CEO to use branded Ghana made chocolate to celebrate his birthday since that would send a strong signal to all invited guests and all recipient of the branded chocolate to consider doing same.
For example, he said when the President of the African Development Bank (AfDB) Group Akinwumi Ayodeji Adesina visited Ghana late last year; CPC produced branded chocolates with his picture to celebrate him.
Nana BoatengI, who assumed the position of MD at CPC on September 25, 2017 explained that after a thorough diagnosis of the challenges facing CPC, he decided to revive some existing initiatives including the branded and hand-made chocolate business unit as well as proposed some new initiatives.
According to him, samples of branded chocolates were on display at the World Cocoa Day celebrations which took place in Kumasi and that motivated some individuals and corporate bodies to approach CPC for chocolates branded with their photos and brands for special occasions.
Branded chocolates attract 10% additional cost
He noted that branded chocolates attract 10% additional premium charge compare to the normal CPC chocolate that is not branded for individuals and corporate bodies.
Customer designs and print label at own cost
In addition to the customer paying 10% more, the individual or organization requesting for the branded chocolate is also responsible for producing the label to wrap the chocolate.
He explained that the customer can chose to take the measurements and design the label or use a private designer who does it for CPC clients but the client pays for the cost of designing and printing the label.
Branded 100 grams chocolate costs GH¢ 450
Nana Boateng I said the price of a regular 100 grams chocolate is GH¢410.50 per carton made up of 10 boxes but the same quantity when branded costs GH¢450 per carton while the customer pays for the design and printing of the label.
Branded 50grams GH¢ 486 chocolate costs
Similarly, he said the price of 50grams per carton of regular chocolate containing 200 pieces is sold at GH¢442.50 but when branded, it sells for GH¢486 while the customer pays for the design and printing of the label.
He said the Research and Development Department of CPC trains individuals interested in producing hand-made chocolates for the public. The CPC MD stated that the plan is to strengthen this initiative
Source : The Finder