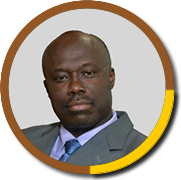 Dr. Frank Adu Asante
Deputy Managing Director (Ops)
WORK EXPERIENCE
• Has over twenty four (24) years of experience. He began his career at CPC in 1993 as a Research & Development Officer. 
• He rose through the ranks occupying positions such as  Production Manager (Confectionery) and Quality Assurance Manager. He served as the Ag. Managing Director from January to September 2017. 
• Prior to joining CPC, he lectured at the Kwame Nkrumah University of Science and Technology.
ACADEMIC QUALIFICATION
• PhD. Food Science and Technology 
• MBA
• Post Graduate Diploma, Confectionary Technology
• MPhil., Food Science
• BSc. Biochemistry